Image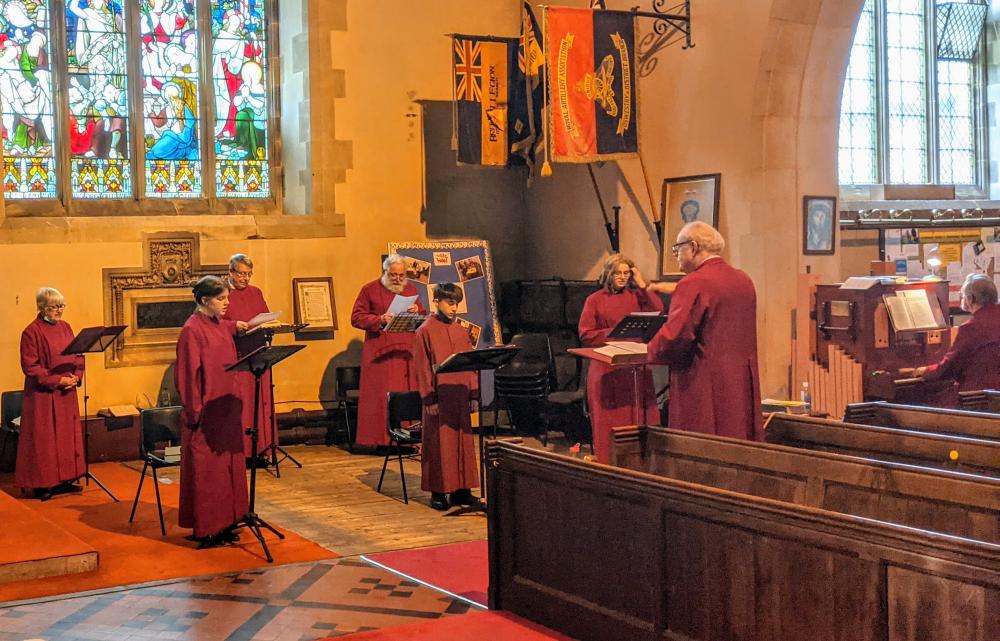 What have we been doing in lockdown?
St Oswalds Church Oswestry is a large town centre church with an excellent choir, currently of  12 children aged from 8 to 16, and 8 adults. We are allowed to sing only in groups of six, socially distanced and tucked away in a side chapel dedicated to St George. The conformation is three trebles and one each of alto tenor and bass.  The acoustic is not as good as in our choir stalls, and singing one's own part alone is quite stressful. It is better than not singing, but a lot of the joy of a church choir, or any other,  is the interaction with other singers, singing together as a group.
For most of the last year, our church choir has been shut down by Covid. For some weeks last year and again this last couple of months, the full choir has been allowed to practice weekly in our Parish Centre, socially distanced, sanitised and masked except for actually singing. Now the government has said that this is not allowed except in groups of six. We consider this to be grossly unfair as people are allowed to go into pubs and football grounds and all do kinds of sports activities.  Just a few miles away from us in Wales,  groups of 30 are allowed to meet indoors, and another choir, to which some of us belong, is meeting at present in a chapel just over the Welsh border.
Our young choristers meet on a Wednesday evening to practice the music for the service on Sunday morning. They also work for the Royal Schools of Church Music 'Voice for Life' scheme, a wonderful musical education, where they progress through the various coloured medals which they wear to services. As well as drawing pupils from the local state schools, our church choir also has a close relationship with Oswestry school, which generously offers scholarships to pupils who belong to our choir. This ensures continuity for us as children have more of a commitment to the choir, and it also encourages a good standard of singing in the school.
The balance of boys to girls has been a bone of contention in the past. The choir was all male for several centuries until the 1990s when girl trebles and female altos began to join. For some time, the trebles were mostly girls. Boys were teased at school and tended to leave at eleven or so. Now, however, the numbers of boys and girls are almost equal, another benefit of the Oswestry School choral scholarships. One of the joys of the choir is that all ages sing and socialise together, from 8 to 80 (or nearly!)
Having said all that, we and our choirmaster, Mike, are trying our best to keep the choir going as well as we possibly can, and we look forward to the day when our choir will get back to full strength.  Before lockdown we were 14 adults and 14 children, singing the full range of cathedral choir music at two services on most Sundays.  Those were the days, and God willing, will be again.